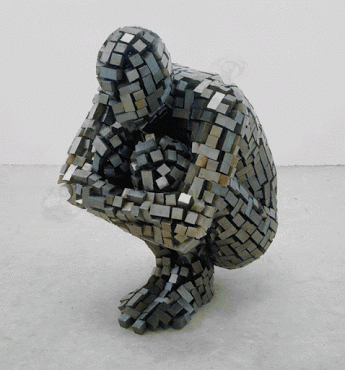 "Here's the kicker that's going to make anyone say, 'Whoa, wait a minute.' They're only on the street because they're gay and transgender," said Lauper, speaking with obvious passion. "Throwing your kid out on the street because they're gay or transgender is like throwing your kid on the street because he's brown-haired or blond or redheaded."
that was me in 1974 and again in 1975. i was both determined and desperate. my home life had been turbulent for some time and the secret sadness around me cried so loudly that i had to run to muffle the despair. i hopped an amtrak from suburban chicago and landed smack dab in the middle of the windy city's then gay ghetto. 5 years after the nyc stonewall riots and lgbt liberation was just beginning to see the light of day. there  was a newfound sense of safety that had not been felt by the pink triangle team before.
but lgbt baby bigs didn't have much protection when they leave home except for the kindness of strangers. They were discards before launch and transition into a sort of second-hand shop find approach to the young lavender lovelies wear it out once or twice and then leave it out of sight.
i was fortunate enough to have made it out of that turbine. opportunity after opportunity have opened their doors to me. but the numbers of young ones like me has risen, but the number of options has not. certainly not as much as the distractions and the pitfalls have multiplied like chokevine on a juniper.
the stats that float around show that the lgbt newbies make up about 40 percent of homeless youth. broken young pups wander to mecca hoping for validation but often meet more of the deceit and judgement from which they ran left but coming from a much less familiar place.
it's almost like a scene from the dickens tale of "oliver twist".  vulnerable wandering souls get sucked into the lairs of artful dodgers and fagins who use fast talk and misdirection to help them vacuum the innocence right out of them. except so often these pitch men look so much better than the contemporaries that surround them.
this is the fate of so many castaways among us. mind you, often the mental health portraits of many of these souls is cubist. at least mine was for years. i continue to get triggered by the shadows that shame-based trauma casts. therefore direct contact is not a way for me to offer support.
but i can (and will) put a human face on an issue such as lgbt homeless youth. our city centers are littered with wounded pups that have broken away from their tribes for whatever reason struggling to survive on the streets. they try to keep up some sense of normalcy as the world they inhabit picks at their sense of self as a vulture might. pecking and pecking and pecking.
there's no real way to tell whether an individual will thrive after being thrust into the darkness of urban nomadic culture. if one is cute enough, has no boundaries, sells a part of themselves, or gives it away, they might survive. but if they cannot or don't know how to do any of these things, or crumble in the process. there is a good chance they won't make it to 20.
if you're reading this post,please consider this request and really give a thought to taking an extra step by offering kindness and support to those who need it so much more than we can imagine.